France hosts Board Validation Team visit for WorldSkills Paris 2013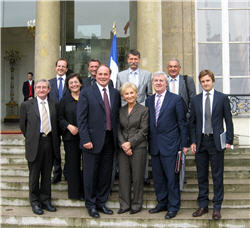 By WorldSkills France
WorldSkills France had the pleasure of hosting in Paris a WorldSkills International Board Validation Team consisting of Tjerk Dusseldorp and Liam Corcoran, respectively President of WorldSkills International and Chair of the Technical Committee. The Board Validation Team was in town to look into the feasibility of organising the 2013 WorldSkills Competition in Paris.
During the visit, Tjerk and Liam met with government officials at the Elysée Palace (the residence of the President of the French Republic), with representatives of France's biggest regional entity, the Region Île-de-France and with all the representatives of French professional branches and local sponsors.
Tjerk and Liam also visited the facilities that WorldSkills France and its partner, Region Île-de-France, will put at the disposal of all WorldSkills International Members during the 2013 Competition: the Paris Porte de Versailles venue for the Competition site, and the Cité Internationale, a green campus located just 15 minutes away by direct tram from the Competition venue.
WorldSkills France and the Region Île-de-France were very pleased to be confirmed on 1 June 2009 as a candidate for hosting the 2013 WorldSkills Competition, and are now working on a final proposal which WorldSkills Members will be receiving end of July.
You can follow the team during their visit in Paris: http://www.dailymotion.com/video/x9m2i5_worldskills-international-board-val_news.
Bid Website: www.worldskillsparis2013.org