The first National Skills Competition for WorldSkills Belarus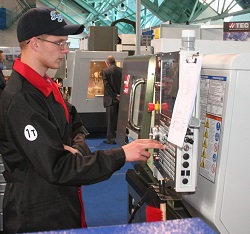 From 20-22 May 2014, WorldSkills Belarus held its first National Skills Competition since becoming an official Member of WorldSkills. It was held at the Football Manege in Minsk, The Republic of Belarus.
The event was conducted simultaneously with the Belarusian industrial forum "BELPROMENERGO", exhibiting modern industrial technologies, production achievements and innovative projects in different sectors of the economy.
Exhibitors and visitors were welcomed by Education Minister, Sergei Maskevich; First Deputy Chairman of the Presidium of the National Academy of Sciences, Sergei Siski; Deputy Minister of Architecture and Construction, Dmitry Semenkevich; and Chairman of the Standing Committee of the National Assembly of the Republic of Belarus on Education, Science, Culture and Social Development, Nicholas Kazarovets.
Participants were treated to a surprise guest speaker at the Opening Ceremony - Olympic champion, multiple winner of World and European championships in rowing and canoeing, Andrei Bogdanovich. A video greeting was shown by the President of WorldSkills International, Simon Bartley.
The key messages to the participants from all the speakers was to believe in themselves, to have a positive experience, conduct themselves professionally, and to use everything they learned leading up to and during the Competition to be the best they can be in their future careers.
All in all, over 150 Competitors took part in the competition in Minsk – both from technical education schools and enterprises. The participants demonstrated their knowledge of modern machines, innovative technologies, and great competences in their field of work.
The participants competed in 20 different skills at WorldSkills Belarus, including Electronics, CAD Engineering, Bricklaying, Confectionery, Joinery, Cooking, Mobile Robotics, Mechatronics, Hairdressing, Automobile Technology, Cable Networks, Cooking, Fashion Technology, Welding, Restaurant Service, Refrigeration Technologies, and others.
The partners of the competition represented over 55 companies and organizations, including Integral, Kamvol, Henkel Bautechnik, country offices of Volkswagen, Bosсh, Festo, Cisco, Haas, etc. They presented their most advanced equipment and materials for competitors to perform the tasks. For a list of the partners please visit our website.
The jury consisted of over 60 Experts representing the entire spectrum of the domestic economy and the education system. A number of international delegations attended the Championship: from Russia, Kazakhstan, Tadjikistan, Nigeria, Lithuania, Germany, and Egypt. WorldSkills International's President, Mr. Simon Bartley, was the honoured guest of the second day of the competition.
To sum up the event, it was a gathering of Experts and talented participants in a competitive environment, attended by over 4500 visitors. There certainly were winners, but in the end, there were no losers, as everyone went home with a positive experience to remember. Everyone conducted themselves in a professional manner.
The medallists were awarded by Deputy Prime Minister of Belarus, Anatoly Tozik and Education Minister, Sergei Maskevich, as well as the Rector of the Republican Institute for Vocational Education, Arkady Shklar. Congratulations to everyone who organized and participated in the successful first National Skills Competition! The results can be found here (in Russian).