Festo and WorldSkills host Mechatronics Hybrid Skill Challenge
The first Mechatronics Hybrid Skill Challenge, involving teams from 18 countries and regions, was great preparation for WorldSkills Shanghai 2022 next October.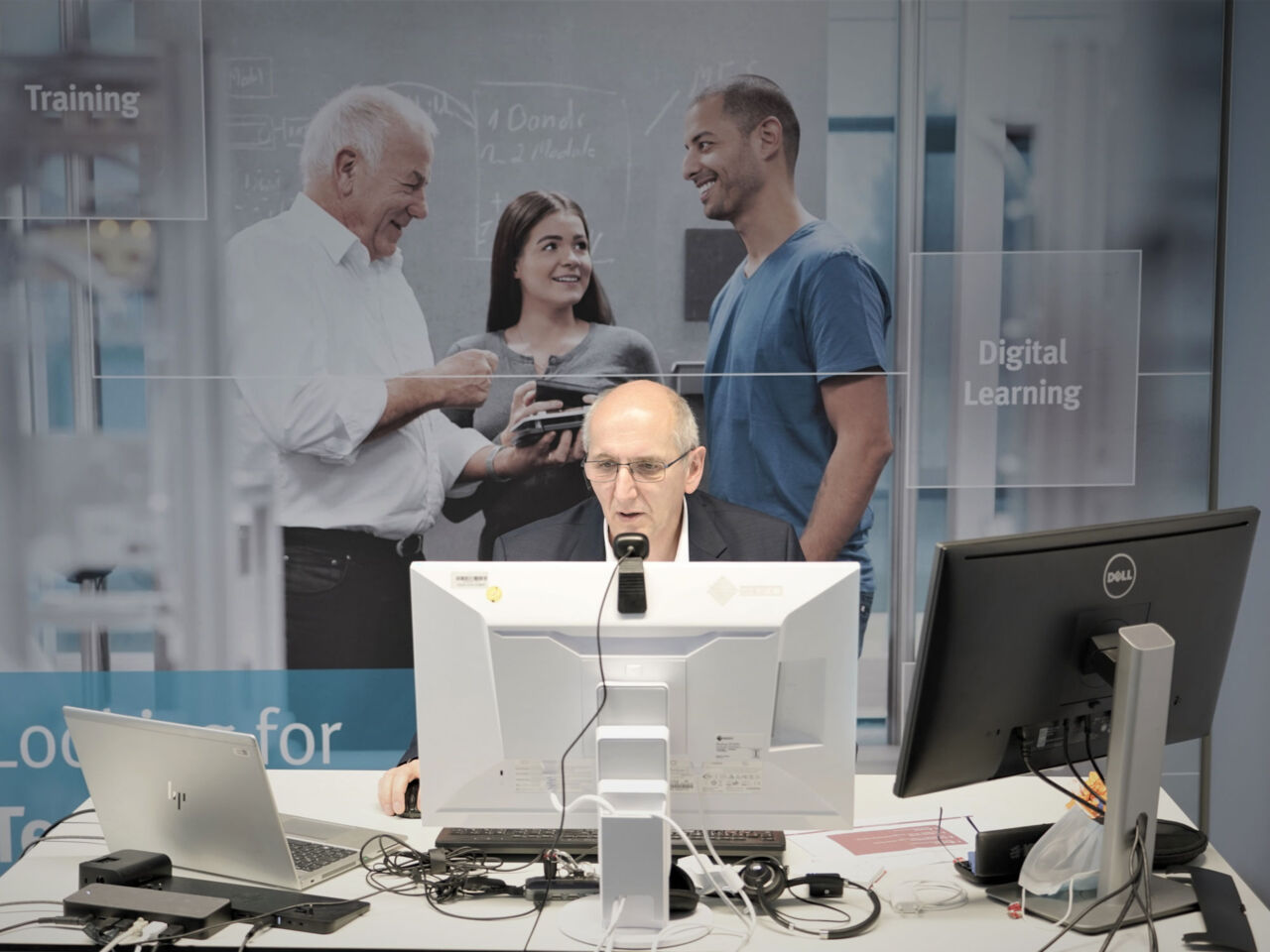 The hybrid challenge in Mechatronics had online and hands-on elements. The young participants worked on adapting a circuit diagram and troubleshooting using a simulation software. They also programmed a digital twin using a 3D software, a computer interface, and the touch panel as hardware. In addition, they tested their knowledge in an online questionnaire and solved tasks on the online portal Festo Learning Experience.
Twenty-four teams of young participants from 18 countries and regions took part: Austria, Canada, China, Switzerland, Germany, Spain, Indonesia, India, Japan, Korea, Malaysia, Namibia, Russia, Sweden, Thailand, Chinese Taipei, Vietnam, and South Africa.
Festo Didactic's Michael Linn is the Mechatronics Skill Competition Manager for WorldSkills. He orchestrated the competition in the Festo Didactic studio. A team of experts coordinated proceedings using MS Teams, cameras, and video recording, as well as providing access to Festo LX, licenses for the simulation software, briefings for participants, jury judging, evaluation of the results, and wrap-up.
Jane Stokie, Director of Skills Competitions for WorldSkills International, welcomed the participants via video. She emphasized the value of hybrid competitions and wished all the participants good luck.
With time running out, participants tested their knowledge and pushed their boundaries. In the end, Spain, Chinese Taipei, and Switzerland emerged as the top teams.
The Mechatronics Hybrid Skill Challenge was ideal preparation for the WorldSkills Shanghai 2022 next October.
More about Festo
Festo is a global player and an independent family-owned company with headquarters in Esslingen am Neckar, Germany. Festo has set standards in industrial automation technology and technical education ever since its establishment, thereby making a contribution to sustainable development of the environment, the economy and society. The company supplies pneumatic and electrical automation technology to 300,000 customers of factory and process automation in over 35 industries. The LifeTech sector with medical technology and laboratory automation is becoming increasingly important. The products and services are available in 176 countries. With about 20,000 employees in over 250 branch offices in 61 countries worldwide, Festo achieved a turnover of around €2.84 billion in 2020. Each year around 8 % of this turnover is invested in research and development. In this learning company, 1.5 % of turnover is invested in basic and further training. Festo Didactic SE is a leading provider of technical education and training and offers its customers worldwide comprehensive digital and physical learning solutions in the industrial environment.
More about WorldSkills
WorldSkills is the global hub of skills excellence, which promotes vocational education and training for young people in 85 Member countries and regions. Every two years we host the world championships of skills and we passionately believe that skills change lives. Formed in 1950, our Members promote skills to two-thirds of the world's population.
In 2021, Festo and WorldSkills are celebrating their 30 year anniversary of working to promote skills around the world.
For more information contact
Elfi Klumpp, Festo, elfi.klumpp@festo.com
Shawna Bourke, WorldSkills, shawna.bourke@worldskills.org