Ensuring that skills reflect societies: Diversity and Inclusion in competitions and beyond
Diversity and inclusion, and the part vocational skills can play in promoting them was the subject of the latest WorldSkills Conference Talk.
They are issues already central to WorldSkills, with moderator and Board member Laurence Gates noting the organization's support for the United Nation's gender equality campaign HeForShe since 2016.
There was also the example of panelist Euphrasia Mulenga, the WorldSkills Champions Trust representative for Africa, who competed for Zambia in Aircraft Maintenance at WorldSkills Abu Dhabi 2017.
The support of her parents had been crucial in helping her pursue a career in a field dominated by men, she told the forum.
"After finding out my field lacked gender diversity, I really felt that my hard work and success through this training would definitely be an encouragement and inspiration for another woman," she said.
The experience of WorldSkills Abu Dhabi 2017 and the Parade of Nations at the Opening Ceremony also pointed out another lack of diversity, that of African countries.
"I really believe the world is not really complete without Africa," she said.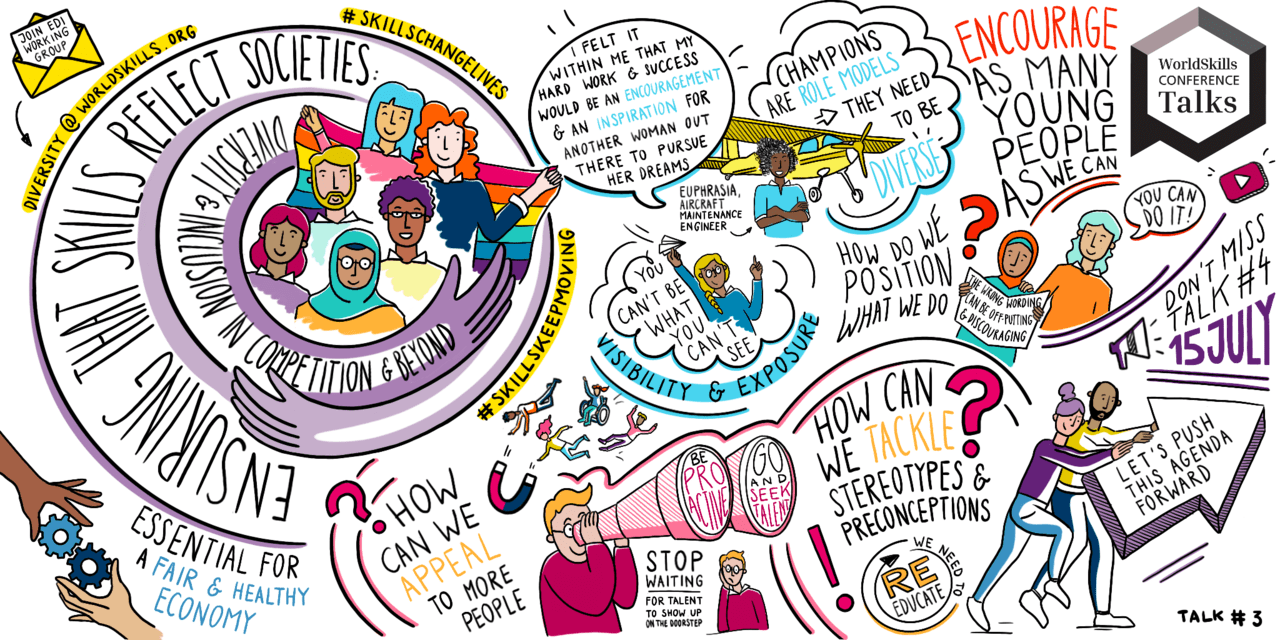 With the title of the talk "Ensuring that skills reflect societies", the scale and scope of the challenge was revealed by Neil Bentley-Gockmann, the CEO of WorldSkills UK.
For the vocational skills movement in Britain, he said "we could see we had a problem, particularly around gender diversity and young people from black and ethnic minorities."
"There was gender separation in terms of young women working in particular training programmes and competitions like health and hair and beauty and young men tending to be in engineering and construction."
Another issue was the failure to connect with more social disadvantaged young people and those who identified as LGBTQ.
"The onus is on us to make sure as many young people as possible could benefit from this work and this training," he said.
As a result of its research, WorldSkills UK had created a wide-ranging plan to address these issues, as well as reviewing its literature and forming an advisory panel of experts.
The latest data, he said, showed success in attracting more young people from black and multi-ethnic backgrounds, as well as socially disadvantaged and LGBTQ.
But at the same time, the organization had "flatlined" in its attempts to attract young women, especially in traditionally male skills.
For Denise Amyot, President and CEO of Colleges and Institutes Canada (CICAN) access for all groups of students was "part of our DNA."
The organization's colleges were located so that 95 per cent of Canadians lived within 50 kilometres of one. "We are about access, no matter who you are," she said.
Their principles were founded on equality, diversity, and inclusion. "For us there is a need to do something," she said. "You cannot just ignore and pretend it will happen on its own, there are definite actions that one needs to take."
Also explored in the talk were the experiences of two leading business names. Sharon Blyfield, senior manager-business partner, People and Culture for Coca-Cola European Partners, noted that Coca-Cola is seeking to create a more inclusive culture with a programme called Just Be which has the message "Be yourself, be valued, belong."
But, she said, "it's still a journey for a business as global and as large as we are that we are still on."
For Meghan West, the President and CEO of WorldSkills Global Industry Partner Mastercam, the task was to attract more young women into a field that was very male dominated.
"As a company we have a lot of influence on what happens in the world and its genuinely our social responsibility to make sure we are providing that," she said.
While Mastercam's New England location meant it was in "a very non diverse area," by embracing remote working they had been able to "hire people from all backgrounds and all areas of the world."
All the panel agreed on the importance of role models and ambassadors in attracting greater diversity. Or as Neil Bentley-Gockmann recalled being told by one young woman from a multi-ethnic background "You can't be what you can't see."
Join the next WorldSkills Conference Talk, on 15 July World Youth Skills Day.