Discover your talents at EuroSkills Lille 2014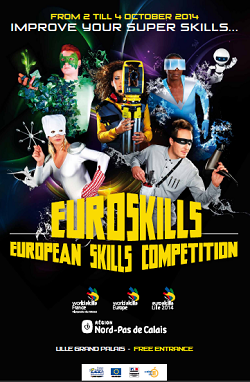 With less than one week to go, EuroSkills Lille 2014 is in the final preparations for all the Competitors and Experts to arrive in Lille, France. More than 400 Competitors from 25 countries are getting ready to participate in 40 individual skill competitions and several team challenges during the biggest European Skills Competition.
The theme of this year's EuroSkills Competition is "Discover your super Talents". Promoted in print, outdoor & online. For an impression have a look at the promotional video.
From 2-4 October, about 120,000 are expected to visit the Grand Palais of Lille, where the events will take place. Entrance is free and no registration is needed. For more information about opening hours, floor plans, visitors programme and more, please see www.euroskills2014.org.