CroatiaSkills Zagreb 2010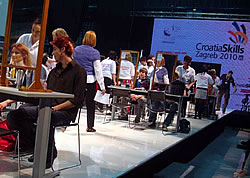 By CroatiaSkills
CroatiaSkills Zagreb 2010 was held from April 8 - 11 in Zagreb, Croatia.
The crowning event was a national competition to find the best young hairdresser in the category of male and female hairstyles. The event took place in the new Arena Zagreb in front of several thousand visitors. The winners of CroatiaSkills Zagreb will compete at WorldSkills London 2011.
At the opening ceremony Mr. Davor Dinter, President of CroatiaSkills and Official Delegate of WorldSkills International, extended special congratulations to WorldSkills International on its 60th anniversary.
Croatia became a Member of WorldSkills International in 2006 and entered four Competitors in WorldSkills Shizuoka 2007.


For more information visit: www.croatiaskills.hr