Young team of Ethiopian entrepreneurs win BeChangeMaker Africa
The first BeChangeMaker Africa saw entrepreneurs from across the continent share their social enterprise ideas.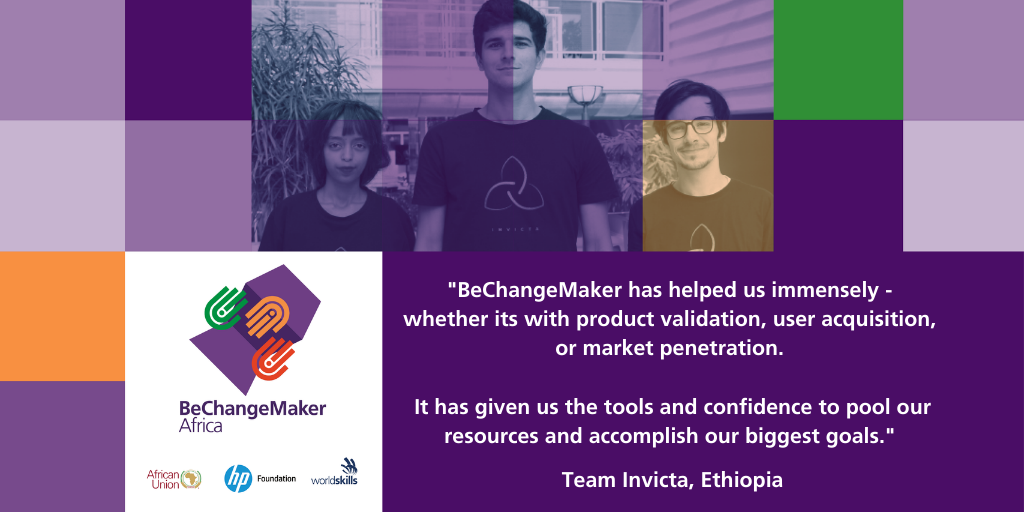 After months of preparation and training, six teams of young people pitched their business ideas at the first BeChangeMaker Africa final.
Launched four years ago, BeChangeMaker has grown rapidly. This year a pilot competition dedicated solely to Africa was launched with the support of WorldSkills International, the HP Foundation, the African Union, United Nations Industrial Development Organization, the German development agency GIZ, and United Nations Development Programme.
BeChangeMaker Africa began earlier this year with a remarkable 315 applications from 42 countries. The top six teams pitched their ideas at the grand finale.
Team Invicta from Ethiopia, on a mission to connect skilled refugees with decent job opportunities around the world, won the top prize.
"BeChangeMaker Africa has helped us immensely - whether it's with product validation, user acquisition or market penetration. It has given us the tools and confidence to pool our resources and accomplish our biggest goals. We are very grateful to the entire BeChangeMaker Africa programme team. It has been a great privilege for us. Our biggest accomplishment to date was successfully launching our mobile and web-based application," said Team Invicta.
The top five teams will continue to receive customized coaching and the top three will receive EUR 2,000 cash award. HP is also providing all the teams with laptops.
Thoughout the programme teams have received ongoing support from the HP Foundation and access to HP LIFE resources to develop their business skills.
The other incredible top teams that pitched their ideas to the expert panel were in the final:
Hand Speaks from Egypt - developing innovative technology for people with hearing impairment to get integrated into the society
Rural Water Filtration Kit from Uganda - developing an easy to use and affordable solution for people who don't have access to clean water across Africa
Glarina from Tunisia – providing healthy, affordable, and accessible product to support people who suffer from Celiac disease
Local Female Guides from Uganda - empowering women by providing skills training and job opportunities through offering unique and sustainable travel experience in Uganda
Steer Analytics from Cameroon - improving the economic condition for the minorities through better financial inclusion
Watch the live pitches online.