Competitor Village activities

The City of Numazu and Shizuoka Prefecture are planning a day of activities for the Competitors in the Competitor Main Village after the competition is all over. On Tuesday, November 20, they are presenting the "Welcome Festival" to the Competitors at the Toki-no-sumika Leisure Complex in Gotemba Village from 10:30am-4:00pm. The Festival is targeted towards Competitors, event staff, local residents and students participating in the One School One Country program. The purpose of the Festival is to provide opportunities for networking between the Competitors, learning about the local residents, and experiencing Japanese culture.
At the Stage Zone there will be performances by Japan Taiko Drummers, Koto musicians and Geisha Dancers.
At the Japanese Culture Experience Event Zone there will be opportunities for Competitors to watch local craftsman develop and teach about their arts. There will be examples of various crafts like origami, Japanese kite making, wood planning, and embroidery. There will also be a chance to learn about the food in Japan through demonstrations of buckwheat noodle-making, sushi making, and tea service.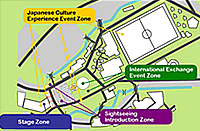 At the International Exchange Event Zone, Competitors will be able to experience some traditional Japanese activities like Sumo wrestling and pounding rice.
At the Sightseeing Introduction Zone, Shizuoka Prefecture brings the famous sightseeing places to the Competitor Village. This will allow the Competitors to be familiar with some of the famous landmarks around them, like Mt. Fuji, Fuji International Speedway and Ayutsubo Falls.
Throughout this one day festival, Competitors will be able to experience several different aspects of Japanese culture while relaxing and getting to know their fellow Competitors better.
More information will be made available shortly.

Please watch the website for further developments: www.worldskills2007.com