Closing Ceremony excitement concludes WorldSkills London 2011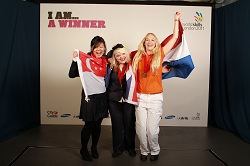 By Dale Cox, WorldSkills International
The O2 was pumping with 931 Competitors, and thousands of supporters and delegations from around the world for the thrilling Closing Ceremony of WorldSkills London 2011. Celebrations from WorldSkills Members from all over the globe meant that The O2 was a blaze of noise, colour and energy. It was the night of nights for the global WorldSkills family, as medals were awarded to the best young skilled professionals in the world.
The glittering Ceremony began with the incredible Beatboxer, Beardyman, who entertained and amazed the audience with a mind-blowing display of sampling and digital effects. Performers from the Hanger Arts Trust gave energetic and acrobatic performances, and engaging hosts Gabby Logan and Michael Underwood introduced the medal winners. Thrilled Champions took to the stage and were awarded their beautiful medals that were designed by competition winners, school students Arash Manshadi and Shivani Kava.
The Closing Ceremony always belongs to the Competitors, and WorldSkills London 2011 was no exception. As always there were huge cheers for the "home team", the United Kingdom, but it was fantastic to watch as Competitors from all Member countries/regions embraced each other on the podium, wrapping each other in their flags.
The organising committee for WorldSkills London 2011 have done an outstanding job. Chris Humphries CBE, Chairman of WorldSkills London 2011, told the audience that final attendance at WorldSkills London 2011 has been estimated at around 200,000 visitors, the biggest ever event at ExCeL London. Tjerk Dusseldorp, outgoing WorldSkills International President, congratulated the host Member:
"WorldSkills London 2011 has been the biggest and the best ever Competition. Its been truly an outstanding expression of the WorldSkills vision. Well done London and the United Kingdom. You've done us proud."
To the Competitors, Mr. Dusseldorp exclaimed "regardless of where you placed in this Competition, you return home a WorldSkills Champion!"
The Best of Nation Award was presented to the best performing Competitor from each WorldSkills Member, creating a magnificent vision as the stage overflowed with flags from all over the world. The WorldSkills flag was officially handed over to representatives of WorldSkills Leipzig 2013, followed by confetti bombs in a thrilling finale to a glittering night.
WorldSkills London 2011 has been filled with life changing moments for our WorldSkills Champions. Congratulations to all Competitors, Experts, and Teams.