Canadian youth at the second APEC Youth Skills Camp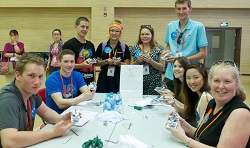 The second APEC Youth Skills Camp was held 21-30 May 2014, and included over 120 participants from 13 APEC economies. The goal of the programme was to promote communication and cooperation on human resources development among APEC economies.
The People's Republic of China invited 15 economies to participate in an eight-day program. The Government of Canada selected Skills Canada to bring four students to experience this once-in-a-lifetime opportunity. The program included a youth forum, visits to vocational colleges, industries and training facilities.
The Canadian delegation included WorldSkills Team Canada 2013 Competitors Bo Chiasson (Mobile Robotics), Donna Lu(Fashion Technology) and Isabelle Belanger(Graphic Design Technology) in addition to Canadian Champion Daniel Rees. Christianne Scholfield, Director of Essential Skills from Skills Canada, accompanied the delegation as the Canadian Team Leader.
Through the APEC Youth Skills Camp, China was able to highlight their vocational educational institutions and showcase their astute business acumen.
The participants visited cultural sites, industries and vocational institutions within three Chinese cities: Beijing, Guangzhou and Guangzho. The Mercedes Benz factory was a highlight, with teams challenged to build a model car. Team Canada was awarded first place in this contest.
Another highlight was visiting a technical school in Guenzhou where the Province was hosting their Provincial Competition, which was the trial Competition for WorldSkills São Paulo 2015. Bo was pleasantly surprised when he reunited with one of his Chinese counterparts in Mobile Robotics from WorldSkills Leipzig 2013.
Aside from experiencing China's system, it was rewarding to hear the other economies speak of their own educational systems and learn about their challenges, improvements, and successes.
It was clear that there exist many cultural differences between economies, but the one commonality is undoubtedly the growing emphasis on securing a skilled workforce.
To get a glimpse on our experiences, visit the APEC 2014 Facebook page.