Bricklayers take the lead in promoting Danish skills excellence
By DK-Skills
On a normal day more than 100.000 people walk through the almost 100 year old wooden arches of Copenhagen Central Station and today is no different. For three young bricklayers it is very different though. For the past two days they have been the centre of attention, using 40 m2 of the station, while competing to be the chosen one to go to the WorldSkills Competition in Calgary, Canada 2009.
'We wanted to create as close to the same atmosphere as you can experience at a WorldSkills Competition and what better place than the central station where the same amount of people walk past every day, making a lot of noise and shooting a few comments their way,' says Erik Fog Larsen from the Bricklayers' Trade Committee's secretariat.
The Danish Champion was selected back in September 2008, and he is also one of the young men in the small competition. But why hold another competition when you have already found your winner?
'Sending a young Competitor all the way to Calgary, making sure that he has gone through a good training and coaching process is expensive and the risk of him falling ill right before departure is too big. We also want to make sure that the person we select can cope with the pressure of competing internationally. Therefore we have decided to train the gold, silver and bronze winner from the national competition. Then we have back-up if anything should happen.' Erik Fog Larsen continues.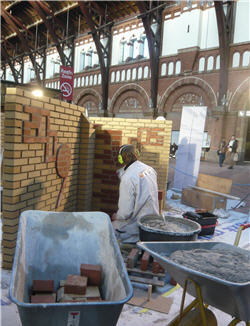 Twice during this hectic morning, the competitors have been interviewed by Danish morning television. It is invaluable promotion of bricklaying skills in particular and vocational education in general.
The bricklayers have really taken advantage of participating in WorldSkills Competition since 1999. They have developed the curriculum based on the experience from the competitions, e.g. more drawing lessons and more math. They have raised the standards of the national competition to bring it in line with WSI standards. And they have systematically promoted their participation in the competitions among the young people already training to become bricklayers, so more of them sign up for the local and regional competitions.
However, the most brilliant results from 10 years of hard work to develop the education are these: they have doubled the intake of apprentices over the last five years, and even though the standards for the journeyman's test have been raised by 30% they don't experience higher drop-out rates. This is an achievement to be proud of.
For WSC2009, Denmark will send a team of 15 Competitors and we are competing in 5 new trades.