From Brazil to UAE for Competitor turned teacher
Lucas Yuri Bessoni Campos is a young man with passion. Passion for Car Painting as a Competitor for Brazil at WorldSkills Abu Dhabi 2017. Passion for riding his off-road motorbike in the deserts of the United Arab Emirates, where he now lives.

And passion for teaching his students, a vocation which brought him to the UAE in the first place.
It makes Lucas the ideal candidate to represent the WorldSkills movement as a speaker at a major international conference this week, sharing his experiences and what it takes to be among the best in the world.
The 2020 Latin IBIS symposium, a major platform for the automotive repair industry, was meant to be held in Mexico City for the first time, but will now be a three-hour simulcast on 10 September as a result of the pandemic.
IBIS offers a platform for senior leaders and influencers from all industry sectors to share knowledge and best practices, learn from each other, and exchange peer-to-peer contacts to establish and leverage strategic business connections.
The opportunity to speak to this industry committee is something Lucas will take in stride, as he is used to big opportunities after making the transition from Competitor to educator, and crossing continents after taking home a Medallion for Excellence from the WorldSkills Competition three years ago.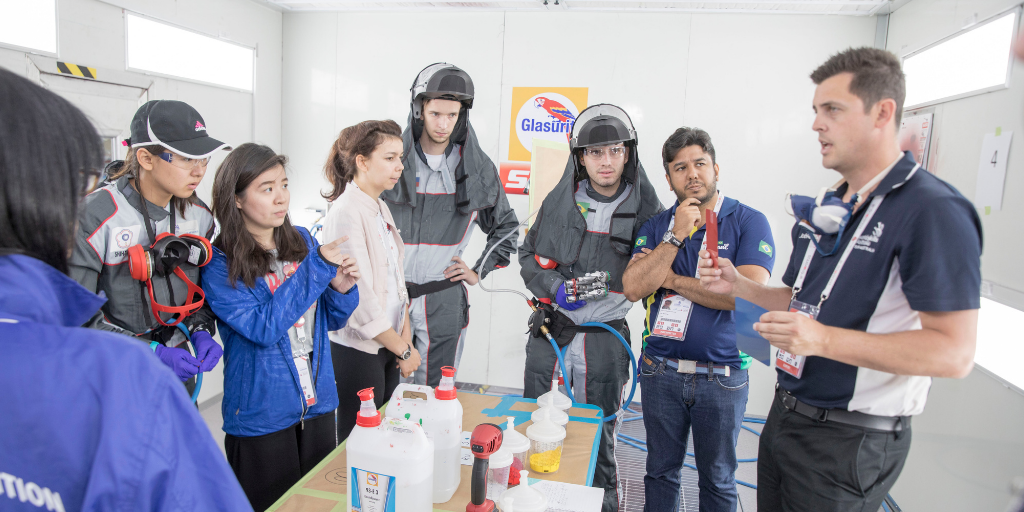 He accepted a position working for EmiratesSkills, the vocational training body for the UAE, helping train young Emiratis in Car Painting and preparing them for WorldSkills Shanghai 2021.
Despite his achievements as a WorldSkills Champion, Lucas says "I am finding I'm a better teacher than a Competitor. I feel better when I am helping students."
Training young people "is my passion," he says.
His love of cars started when he was 10, making wooden models with his brothers, one of whom is also a teacher back home, as well as running a workshop business.
At 15, he enrolled in a car technology course run by the Brazilian vocational training body SENAI at his home in Baura, near Saõ Paulo.
He was soon training in Car Painting, winning Brazil's national competition in 2016 and earning him a place on the team for WorldSkills Abu Dhabi 2017.
Lucas plans to stay in UAE until the end of the next WorldSkills Competition, but wherever his destination, he plans to keep on teaching and sharing his love of learning.
Learn more about IBIS and their upcoming event at http://ibisworldwide.com.