BeChangeMaker launches in Africa
BeChangeMaker Africa is an online training programme that combines social entrepreneurship and the power of skills to inspire action on global challenges.
Building on the success of the global programme, BeChangeMaker Africa, will create a strong regional ecosystem to bring regional and local partners together to support African entrepreneurs.
BeChangeMaker Africa, continues to provide access to high quality learning content on HP LIFE, tools and technology for startup acceleration, dedicated coaching, mentoring and customized support, as well as the opportunity to draw from a diverse global network of potential supporters and investors. It is also part of the implementation of the African Union's 1 Million by 2021 Initiative.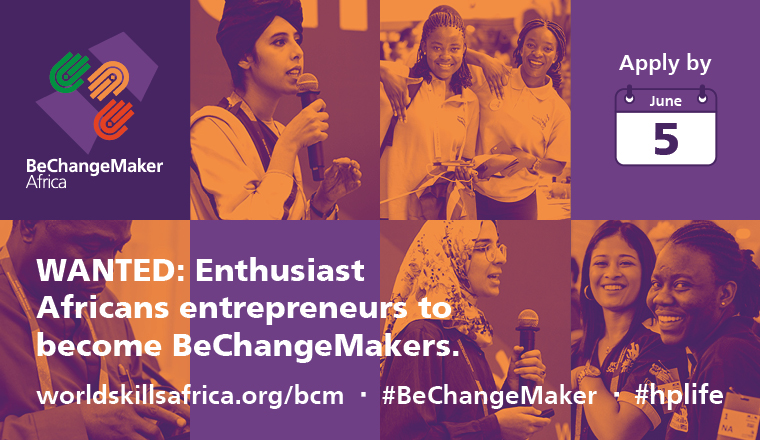 Become a BeChangeMaker Africa offers:
Business plan training through HPLIFE
Coaching & Mentorship
Connections to global networks
Turn your skills into actions and impact
Chance to join a mini bootcamp followed by a semi-final
Chance to pitch your idea to a panel of experts at the grand finale
Through the free virtual training model youth around the world gain access to the training, education, and mentorship to transfer their technical skills into business ideas. Together we are working with young entrepreneurs to address the Africa's Agenda 2063 and the United Nations Sustainable Development Goals.
Thirty teams from across the African Union Member States will be chosen to participate in three months of intensive training and coaching, which includes online pitch competitions to pick the top five teams that will be invited to join an online bootcamp followed by the semi-final. Top three teams will be selected to join the grand finale.
The top five teams will each receive EUR 1,000 worth of customized post-programme training. Additionally, the top three teams will receive EUR 1,500 cash prize, and the first place winner will receive another EUR 1,500 cash prize at the final.
Applications will be accepted until 05 June at www.worldskillsafrica.org/bcm