BeChangeMaker 2019 launches in 24 countries
There are 270 teams from 38 countries. By the numbers alone, the initial response to this year's BeChangeMaker – our social entrepreneurship training programme – is impressive.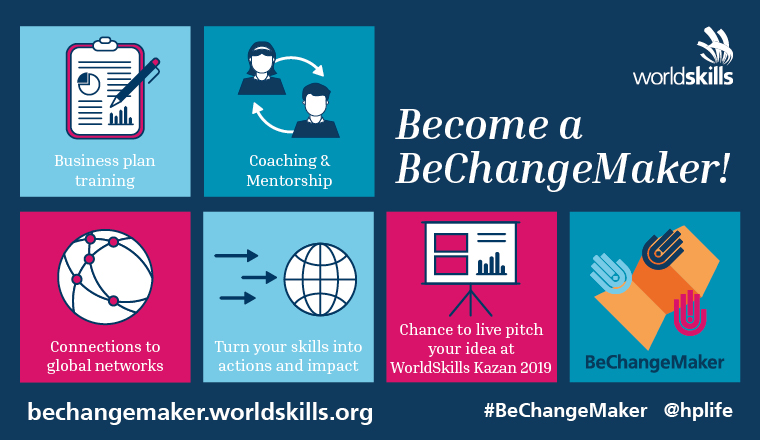 Now in its third year, BeChangeMaker has gone from just a handful of applicants to a record number for 2019.
Designed to help budding social entrepreneurs set up their business, the programme offers free online coaching and training through WorldSkills International and the HP Foundation that can turn those dreams into reality.
With the initial application process now closed, organizers are moving onto the next exciting phase that will culminate in a live presentation and the announcement of the winners at WorldSkills Kazan 2019.
With all the initial concept ideas submitted, the difficult task of selecting the top 30 teams who will join the programme has now been completed. Young people from 24 countries have made the list, ranging from Brazil to Yemen, via places as diverse as the Central African Republic, Estonia, Jordan, Pakistan, Togo, and the United Arab Emirates.
The social challenges proposed by the teams are equally wide-ranging, from climate action, zero hunger, peace and justice, decent work, clean and affordable energy to health and well-being and gender equality, which all aim to contribute to the United Nations Sustainable Development Goals.
"It was inspiring to review the applications and see the passion in the videos these young people shared. One of the best parts about this programme is that in addition to developing their social entrepreneurial potential, the tools and trainings are something that they can take away and apply in their existing work environment or personal effort to continue the journey of resolving the global challenges they care about, " says Grace Lung, Senior Manager of Partnership Programmes.
BeChangeMaker now moves on to the next phase, when the final 30 will take their first online HP LIFE course and get help brainstorming the best way to tackle their social issues.
Between now and the end of May, the teams will continue to refine their business ideas and receive more training from HP LIFE courses, supported by a dedicated coach and mentors who come from a wide range of backgrounds with various experiences.
Judges will then hear their final proposals through online pitches, that will narrow down the teams from 30 to 15, and then the top 5 teams will be selected in July. Those not making the cut will still continue to receive training and the chance to connect with a global network of potential supporters and investors.
The top five will travel to Kazan to make a live pitch at the finale from 22 to 25 August when the top three winners will be revealed.
Visit https://bechangemaker.worldskills.org.