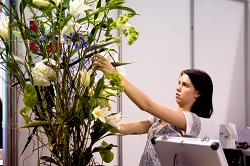 What do you think of when you hear the word Springtime? Flowers, of course!
It takes skill to master the art of arranging flowers, and that is why Floristry is one of the WorldSkills competitions. Florists are able to plan, design, and prepare floral works appropriate to the occasion style, scale, budget, and theme. They arrange the types and colours of flowers that not only look nice, but reflect the mood of the occasion. Whether the arrangements are for funerals, weddings, or just to say "I'm sorry", "congratulations" or "thank you", Florists use their expertise to provide products that communicate those feelings the client is looking for.
The planning and preparation work of a Florist is very important. They must understand the impact of heat, ventilation and lighting on the floral display. They must also apply appropriate health and safety practices when working with plants and botanical displays, as some exotic plants look beautiful, but require precaution when handling. Skilled and talented Florists are familiar with all types of Floristry styles. There are many styles; the one you see most used usually depends on what country you live in and what types of flowers and plants are available.
The floral design style 'Ikebana', originated in Japan. It has a simplistic style, but represents three parts of alignment including heaven, man, and earth. With the 'English Garden' style of floral design, seasonal garden flowers are showcased with supporting foliage. These arrangements are often placed in a close, radial fashion in a vase or other container that supports the design. Modern/European floristry style is very contrast to the English garden style. Its arrangements feature linear and asymmetric designs that showcase the individual floral materials and the overall design.
What is your favorite type of floral arrangement? If you are ever in the market for beautiful flower arrangements, check out our WorldSkills Champions working around the world, after all, they are the best at what they do!