Another UK Team achieves gold - 8 gold medals won at EuroSkills 2008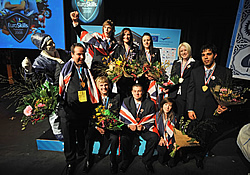 Only a month ago the country was celebrating the success of Team GB in Beijing, but now another UK team has picked up medals in an international competition. A team of 16 young people achieved eight gold medals at the first ever EuroSkills, a three day competition in skills ranging from farriery to cleaning.
EuroSkills is a new, pan-European, skills competition which was this year held from 18th-20th September in Rotterdam, Netherlands. Watched by around 40,000 spectators, the 400 competitors from 29 countries competed in 25 different competitions covering 49 different vocational skills.