30 skilled young people selected for UK Squad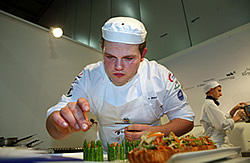 Thirty people have been chosen to be part of a squad of skilled young people who are getting ready to take on the very best in the world, at the biggest skills competition ever - WorldSkills Calgary 2009 - which will take place in Canada in September 2009.
These young men and women, all aged between 17 and 22 were chosen for Squad UK after a tough three day selection competition which took place at SkillsLondon, Excel and Acton & West College, London, last week. In total, 55 hopefuls competed at the event in skills ranging from floristry to landscape gardening to mechanical engineering. The selected squad are:
Floristry – Joe Massie (Fishlocks Florist) and Lauren Curry (Sarah Ann Florists)
Industrial Electronics – Melanie Adlam (MBDA) and Andrew Fielding (MBDA)
Mechanical Engineering CADD – William Darvill (Bournemouth University) and Martin Eusebi (MB Roberts Aerospace)
Cooking – Oli Lloyd (Claridges), Christopher Kenny (Le Manoir Aux Quat Saisons) and Adam Smith (The Ritz)
Landscape Gardening – Grant Finch (Scarborough Council), Simon Ginger (Otley College), William Gadd (Otley College) , Joshua Kitchen (James Pond Landscaping Ltd) and Luke Denby (Roderick French Groundworks)
Bricklaying – Sam Fairgrieve (Jelson Holmes Ltd), Tom Coppock (self employed) and Adam Metcalf (Hobson & Porter)
Stonemasonry – Nathan Smith (Stone Firms Ltd), Oliver Clack (Cathedral Works Organisation (CSO)) and Marc Pate (Wells Cathedral Stonemasons Ltd) ·
Painting & decorating – Mark Nevin (Nevin of Edinburgh) and Heather Adgie (Bell Group UK) · Cabinet Making – Liam Gardner (Phillip Bastow's Cabinet Makers) and Luke Griffiths (Cimitree furniture/Chichester College)
Carpentry – Gareth Evans (self employed) and Cliff Williams (Anthony Rees)
Joinery – Neil Macartney (Haymills Contractors), Richard Ellwood (self employed), Beau Hewlett (Bryan Gelder Joinery) and Adam Bushnell (Rosewood Joinery Oxford).
Now that they have been selected for Squad UK, they will need to increase their training to ensure a place on Team UK to compete at WorldSkills Calgary 2009, which will be announced in June. They will be joined by further squad members who were chosen at the next selection competition that will be held in January. Edge is the official supporter of Squad UK and Team UK.
The WorldSkills Competition is an international skills competition held every two years, where 50 Member countries/regions meet and compete in over 40 different vocational skills, including Beauty Therapy, Web Design, Cabinet Making, Floristry and Engineering. This intense, four day Competition takes place from 1-7 September in Calgary, Canada. Over 120,000 spectators are expected to attend the Competition.
Team UK and Squad UK is managed by UK Skills. Simon Bartley, Chief Executive of UK Skills, said "These boys and girls have certainly earned the right to be in Squad UK but the hard work hasn't finished yet. Squad UK will be enduring tough training regimes for months to come to make sure they are world class before they are selected for the team heading to Calgary. We send our congratulations to them all for being selected for Squad UK and wish them luck in their training."
Skills Minister, Lord Young, said: "Having seen these young people in action at the selection event I am already in awe of how talented they are. They are proving what talent there is in this country and I hope they can show other young people just how fulfilling vocational, skills based careers can be. I wish all of them the best of luck in the months that are to follow and look forward to welcoming those that become part of the 2009 Team UK."
Andy Powell, Chief Executive of Edge, said: "As a nation we do not value highly enough the skills young people have in this country and the many paths to success which are available. It should be seen as a huge honour to be selected as part of the WorldSkills UK squad and flying the flag for all practical learners in the country and the staff who make this success happen. We look forward to working with the squad and their mentors to help them develop from being the best in the UK to being the best in the world."
The UK's WorldSkills team is managed by UK Skills working in partnership with the Department for Innovation, Universities and Skills, the Department for Employment and Learning Northern Ireland, the Scottish Executive, the Welsh Assembly Government and key partners from education, government and industry.
For more information, please contact UK Skills www.ukskills.org.uk.