The 2nd regional GCC Skills Competition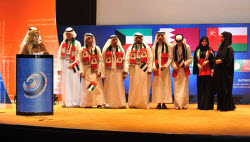 By Ahmed Albakhit and Reem Khammas, Team Leaders, United Arab Emirates
Saturday March 5, 2011 formed the beginning of the second Gulf Co-operation Council (GCC) Skills Competition in Muscat, Oman. Thirty Competitors from Bahrain, Kingdom of Saudi Arabia, Kuwait, Oman, Qatar and The United Arab Emirates were introduced to the public in the presence of official delegations from all the participating countries. The audience also included students from different technical institutions within Oman as well as people from the community.
The Opening Ceremony was under the patronage of H.E. Dr. Ahmed Bin Mohammed Al Saeedi, Minister of Health, who honourably announced the beginning of the second round of the GCC Skills Competition. The Ceremony reflected Oman's heritage through short documentaries and astonishing traditional dances performed by a local band.
For three days, (March 6 - 8, 2011) Competitors from all the GCC countries competed in Automobile Technology, Electrical Installations, Graphic Design Technology, IT PC/Network Support, IT/Software Applications, Web Design and Welding. Results of the Competition was announced during the Closing Ceremony on Wednesday March 9, 2011.
Mr. Haji Faqir Al Bulushi, President of GCC Skills Muscat said: "So far, the competitions are running as scheduled. All Competitors and Experts went through procedures set by the GCC Skills 2011 Organising Committee to meet the international standards for these kinds of competitions."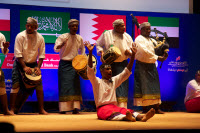 Note from WorldSkills International (WSI)
The GCC Skills Competition is one of four regional skills competitions that is held around the world. When countries/regions team up for a regional competition it enables them to share best practice and benchmark their skills with their neighbouring countries. Regional competitions have many advantages for all involved and for the wider WorldSkills movement. For GCC Skills, Saudi Arabia, Oman and The United Arab Emirates are Members of WSI and it is therefore a fantastic opportunity to reach more young skilled professionals in all the non WSI Member countries.
"There are two main reasons or goals behind having a regional competition. The most important one is to raise the awareness of the technical and vocational education amongst the young generations of the GCC countries. The second goal is to provide potential WorldSkills Competitors with a unique training opportunity before going to the international competitions." said Ali Mohammed Al Marzouqi, President of Emirates Skills and UAE's Technical Delegate for WorldSkills International.
During GCC Skills a group of international delegates have travelled to Muscat, Oman to support the initiative in different ways. Representatives from the WSI Board and Board Elect, Secretariat and Member countries/regions are present. They are there to lend expertise and knowledge but also to learn from the competition and the participants. It is a true skills and knowledge exchange opportunity.
It is our goal that more countries/regions will see the opportunities in being a part of the WorldSkills movement in the future. We wish all of the GCC Competitors and organisers the best of luck in the Competition.
Visit the GCC Skills website for more information or view their photo gallery.