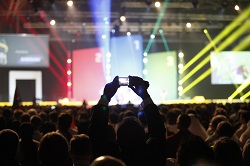 This has been quite the year for WorldSkills. Of course the biggest event was the 42nd WorldSkills Competition held in Leipzig, Germany in July. WorldSkills Leipzig 2013 brought new perspective and value to the WorldSkills Competition. We have taken the next step to position our flagship event as the global meeting place and platform for international leaders in Vocational Education and Training and in skills promotion and excellence. With an increased focus on sharing best practices, learning leading edge technology and techniques and transferring knowledge across the globe by showcasing the skills that shape our world and the wealth of career opportunities available to all, we are working towards our vision of improving our world through the power of skills.
Media is continuing to see the potential and opportunity in the WorldSkills Competition, with nearly 1,000 media attending the event, creating articles, videos and interviews. With over 200,000 visitors to the event and over 800,000 direct reach on Facebook during the event, the WorldSkills message is reaching the masses. The cooperation between industry and education was seen in Leipzig like never before with initiatives like WorldSkills Express (Industry sponsored buses from surrounding schools to bring youth to the event).
The partnership between WorldSkills and WorldSkills Leipzig 2013 was one of teamwork and collaboration. Every challenge, we tackled together, every success, we celebrated together. The Boards and staff worked tirelessly to create the WorldSkills experience. I would like to personally thank each and every Member organization (Delegates, Experts, Team Leaders, Competitors and supporters), Sponsors and Partner, staff and volunteers for their hard work and commitment.
The WorldSkills Foundation has also been very active this year with Innovation Labs, creating new partnerships and working on community building projects like plumbing in rural Nepal and Bangladesh. For more information on the Foundation projects please visit their website: www.worldskillsfoundation.org.
The large task that we undertook in 2013 was creating a new look and feel for the WorldSkills brand. We worked with the international PR agency, MSL, to bring this all together as one of our biggest deliverables in the 2012-2015 Action Plan. I am happy to report that the new look and feel is now in the final stages of development and will be launched early 2014.
As part of the rebranding and new look and feel, WorldSkills International and WorldSkills Foundation will be consolidating their communications channels and will both operate under the same banner of WorldSkills with one website, one social media campaign and one communications plan overall. Their projects will remain separate (but connected) but there will be greater communication synergy in 2014.
Now as we all start to work towards WorldSkills São Paulo 2015, we want to learn from everything in Leipzig and from the rebranding exercise and continue to push ourselves to make the event and brand bigger, better and to improve the experience and impact around the world.
Thank you to everyone who helped make 2013 a wonderful year for WorldSkills and we look forward to working with you in 2014 and beyond.
David Hoey, CEO, WorldSkills International