17th Skills Canada National Competition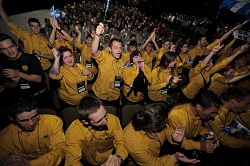 By Skills/Compétences Canada
The 17th Skills Canada National Competition was held at Expo Cité in Québec, Québec, 1-4 June. The event was a great success as over 15,000 attendees and 532 competitors were present for the two day competition.
On 1 June, the opening ceremony kick started the event at the Colisée Pepsi with guest speaker and official SCC spokesperson, Mike Holmes, who welcomed everyone to the official launch of the National Competition. This was followed by a special live concert by the rock group Casabon.
The two day competition featured competitors from across the country who competed to win the title of National Champion for their respective trades or technology areas. For competition results and photos, visit www.skillscanada.com.
In addition to the registered 500 competitors, 20 Team Canada competitors were also on site either training or helping in their respective areas. Moreover, participation from other WorldSkills International Members demonstrated our International affiliation and competitive spirit leading up to the WorldSkills London 2011 Competition. Thank you and Good Luck to Morocco, United Kingdom and the Netherlands!
The closing ceremony which was held at the le Centre des congrès de Québec, on 4 June, was vibrant and full of excitement. The first, second and third place winners for the 43 contest areas, within the six trade and technology sectors, were awarded gold, silver and bronze medals respectively. The ceremony closed with a unique performance by Dominic Lacasse, the 'Flag Man'. Skills Canada would like to congratulate all the competitors for their hard work and perseverance. We would also like to thank the National Technical Committee for their time and dedication and our sponsors and partners for their ongoing support.
To view a highlight video of the Competition, go to YouTube