15th National Skills Competition in Iran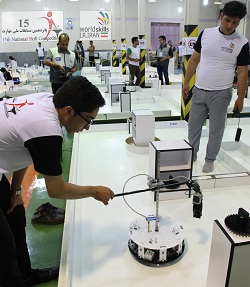 The 15th National Skills Competition was held from 31 August to 3 September in Karaj with 553 young participants. These competitions are held every year in three stages: provincial, county and national. The National Skills Competition was held with 46,183 Competitors in the provincial stage, 8,156 Competitors in the county phase and 553 Competitors were successful in reaching the national stage, competing in 29 individual skill competitions.
As part of the national event, Iran invited several Experts to observe the skills celebration and take part in teaching workshops. There were also several technical observers including Mr Daniel Gauch(Germany), Dr Nader Imani(Festo), Mr.Arnold Sandjaja(Indonesia) and Mr.Ali Aljahd Hami(Oman).
During the Opening and Closing Ceremony we hosted several high level officials including the Minister of Labor and Welfare, some parliament members and many other VIP from Iran.
At the Closing Ceremony, the winners were awarded their medals which included 40 gold, 36 silver, 35 bronze and 160 honorable medallions.
The selected top Competitors will start their preparation camp to take part in the 43th WorldSkills Competition in Brazil in August 2015.