The 14th National Skills Competition in Iran was a success!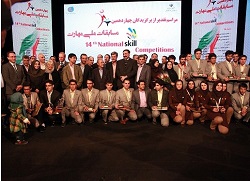 By TVTO in Iran
The 14th National Skills Competition was from held 27-30 October in Karaj with 575 young participants. In Iran, these competitions are held every year in three stages: provincial, county and national competition. This year in the provincial stage there were 35682 competitors and 5032 of those advanced to the county stage. From the county phase 575 competitors were successful in reaching the national stage in 28 individual skill competitions.
During the national event, Iran invited delegates from the WorldSkills movement to observe and join in the skill celebrations as well as take part in teaching workshops. There was a teaching workshop on water waste management with the information from Mr. Daniel Gauch (WorldSkills Germany) and on the wood industry with information from Mr. Patrick Bregenzer. In addition, Mr.Theo Ktistakis, the head of sales at Festo Didactic in Germany, visited these competitions.
This competition consisted of Opening and Closing Ceremony which hosted several high officials and VIPs, including the labor and welfare minister, some parliament members and many other authorities from Iran.
During the Closing Ceremony, the medallists were awarded their medals which included 44 Gold, 25 Silver, 38 Bronze and 153 honorable diplomas.
From this National Skills Competition, the selected Competitors will start their preparation to take part in WorldSkills São Paulo 2015.