WorldSkills Leaders Forum takes place in Niagara Falls, Canada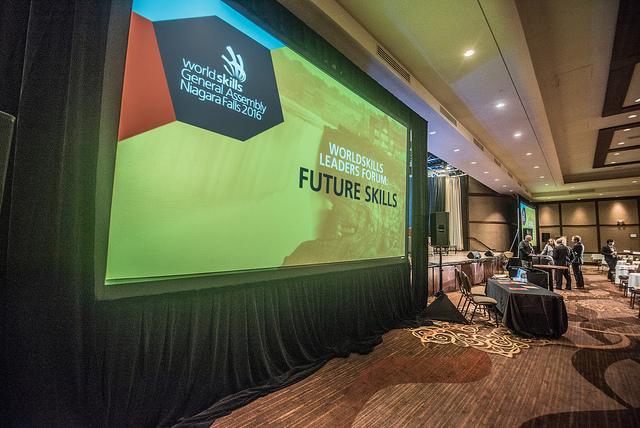 Skills/Compétences Canada and SkillsUSA jointly hosted the latest edition of the WorldSkills Conference Programme.  The day long event, was held during the WorldSkills General Assembly 2016, focused on Future Skills.
The presentations and videos of the Leaders Forum are available here.
There were three keynote speeches including one from Pavel Luksha, a Professor of Practice at the Moscow School of Management SKOLKOVO, who examined how the demand for a workforce that possesses "skills of the future" will require new education methods and training institutions. 
Professor Luksha, spoke to how transformative technologies are changing the nature of jobs to more custom designs and human relationships, which underlines the importance of employability skills or "meta skills". These skills include concentration, attention management, resilience and the ability to learn, unlearn and relearn throughout a person's life.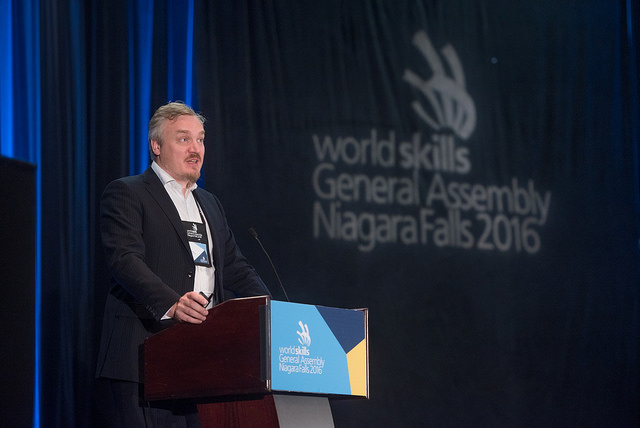 Lori Foster, picked up on that idea of the world of work changing rapidly.  Dr. Foster is a Professor of Industrial-Organizational Psychology at North Carolina State University (USA) and the University of Cape Town (South Africa) explained that skills development is essential to sustainable development, which involves the "freedom to achieve well-being."
She quoted a South African worker who described skills as something that "no one can ever take away from you" and illustrated how work can be essential to well-being as a source of both economic and psychological empowerment, especially when there is a good fit between people and their jobs. This fit can be enhanced by incorporating insights from industrial-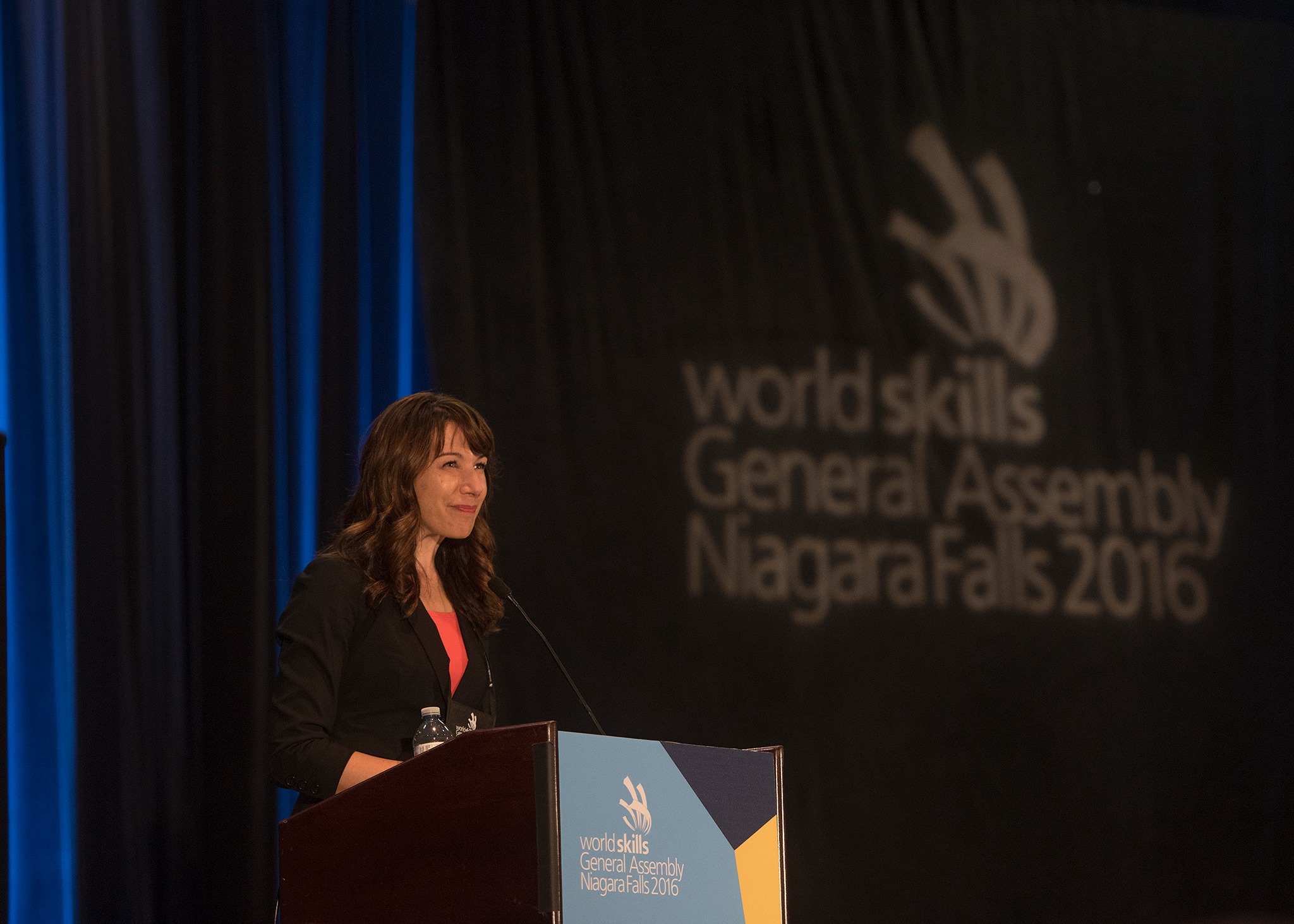 organizational and vocational psychology.
Dr Foster believes that the WorldSkills model is uniquely placed to overcome the challenges it presents and she pointed out that WorldSkills Members can benefit from virtual and online technologies. 
The final keynote was from Kayleen McCabe, the founder of the McCabe Foundation and DIY
Network television host, encouraged young men and women alike to consider careers in the skilled trades.  Ms McCabe discussed the role of TVET training in 20th and 21st century American secondary education system.
She stated that "working in trades is the practical application of math." Pursuing math skills as part of training for a skilled trades or technology career can make youth interested and good at math where they might not otherwise have been. Ms McCabe also focused on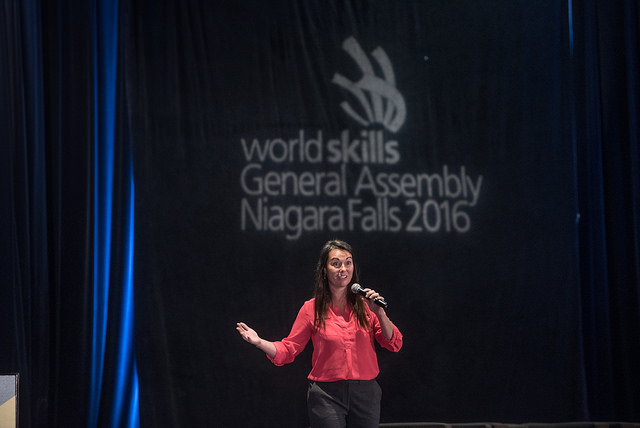 positive role models for women in the trades and that there is not such thing as a job "just for men" or a job "just for women."
Each of the three keynote addresses were followed by panel discussions and interactive question and answer periods including contributors from Fixturlaser, Air Canada, Volvo Construction Equipment, St. Louis-Kansas City Carpenters Regional Council, Shawcor, and Autodesk.
"The WorldSkills Leaders Forum provided a great opportunity to discuss and hear many perspectives on future skills required and the methods and philosophies for acquiring those skills. The Forum is an important event that brings together Members of the WorldSkills network and allows them to continue to build on the growing global skills movement," said Shaun Thorson, Chief Executive Officer, Skills/Compétences Canada.
"We were so honoured to help plan the WorldSkills Leaders Forum as part of the General Assembly," added Timothy Lawrence, Executive Director of SkillsUSA. "This event, focused on the world's future highly-skilled technical workforce, provided the opportunity for dialogue and open discussion of best practices among the more than 75 participating nations. Three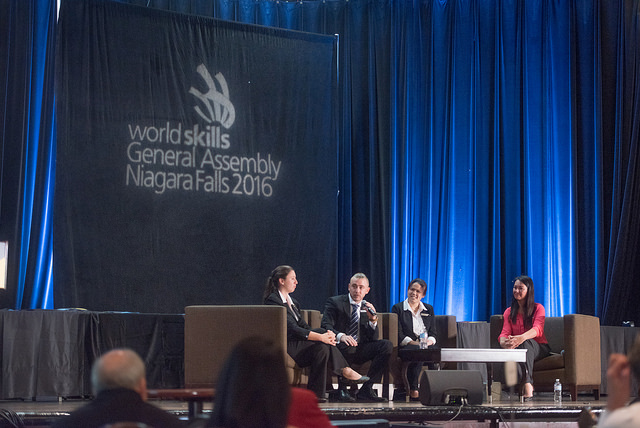 top-notch speakers brought new perspectives on ways to gain the knowledge and tools to close the skills gap, and it was a fascinating day."
An engaging and active panel featuring several representatives of the WorldSkills Champions Trust from three continents left the delegates with inspirational stories highlighting the strength of the WorldSkills movement.
"I am excited to start my job everyday! You don't have to be a doctor or a lawyer to be a critical part of society", said Tayla Schou, the WorldSkills Champions Trust Representative for Africa.
Gary Condon, an Irishman based in Dubai and the WorldSkills Champions Trust Representative for Asia said, "Skills rule the world – All skills make a difference. You don't need to sit at a desk to be important."
Finally, Rachel Chua the WorldSkills Champions Trust Representative for Oceania called on the delegates to empower youth. "If you can dream it and can do it make it happen. Our job is to empower them!".
The WorldSkills Leaders Forum is an annual global event on the most topical themes – based on input from delegates and Members.