Vision 2025 adopted at General Assembly 2016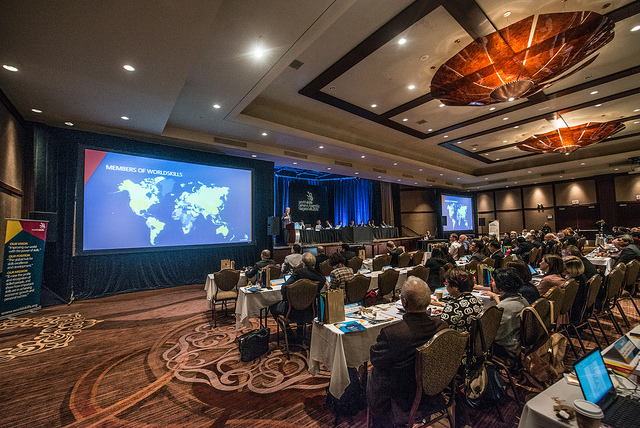 General Assembly 2016, in Niagara Falls, Canada has been very successful and productive with the Members adopting the ambitious goals of Vision 2025. Vision 2025 evolved from discussions throughout 2016 including meetings with Members and partners in Brussels, Singapore, and Washington D.C.
It is built around three broad strategic goals:
Raise ambition and opportunity in vocational education and training (VET) for young people, employers, and societies.
Enhance the quality of VET provision through stronger connections to labour markets, employers, and economies.
Help build the organizational capability of WorldSkills and the global competitiveness of its Members through skills.
The General Assembly Working Groups also discussed the aims within the Vision, which support the United Nations Sustainable Development Goals through our six focus areas (Promoting Skills, Career Building, Skills Competitions, Education and Training, International Cooperation and Development, and Research). 
The General Assembly and Leaders Forum brought together more than 300 skill and vocational thought leaders from around the globe. The leadership displayed by Skills/Compétences Canada and SkillsUSA in their hosting of the event reflects their commitment to the WorldSkills community.  We are very grateful for their tremendous hospitality.  Both are impressive organizations that are building the skilled talent within their countries with diverse and active programmes.  
The attendance by 28 Global Partners, from 15 companies, represents the largest delegation of partners at a General Assembly. Their presence and their continued support for WorldSkills provides a critical link between our Members and industry around the globe.
The Global Partner Autodesk, played a critical role in supporting the new structure of the WorldSkills Champions Forum. The Forum brought 30 Champions together to develop plans for four projects that will solve real-world problems.
Among the many highlights of the General Assembly was the addition of Romania as the 76th Member of WorldSkills, the advancement of Project Africa, and strong interest from Members to further align with the WorldSkills brand.
After three inspired presentations from Colombia, Ireland, and the Netherlands, Amsterdam was selected as the host of General Assembly 2018. We were pleased to receive updates from WorldSkills Abu Dhabi 2017 and WorldSkills Kazan 2019 for their upcoming events, including enhanced Conference Programmes.
Many sessions from the WorldSkills Champions Forum, as well as the presentations by the bidders for GA2018 were broadcast on Facebook Live.  You can still watch the videos on the WorldSkills Facebook page here.
The General Assembly is a reflection of the diversity, innovation, and strength of the WorldSkills movement. We thank all Members, Global Partners, and Champions for their participation in Niagara Falls, and look forward to seeing you in one year at WorldSkills Abu Dhabi 2017!
David Hoey
CEO