VEX Robotics expands partnership with WorldSkills to bring additional STEM solutions to more students internationally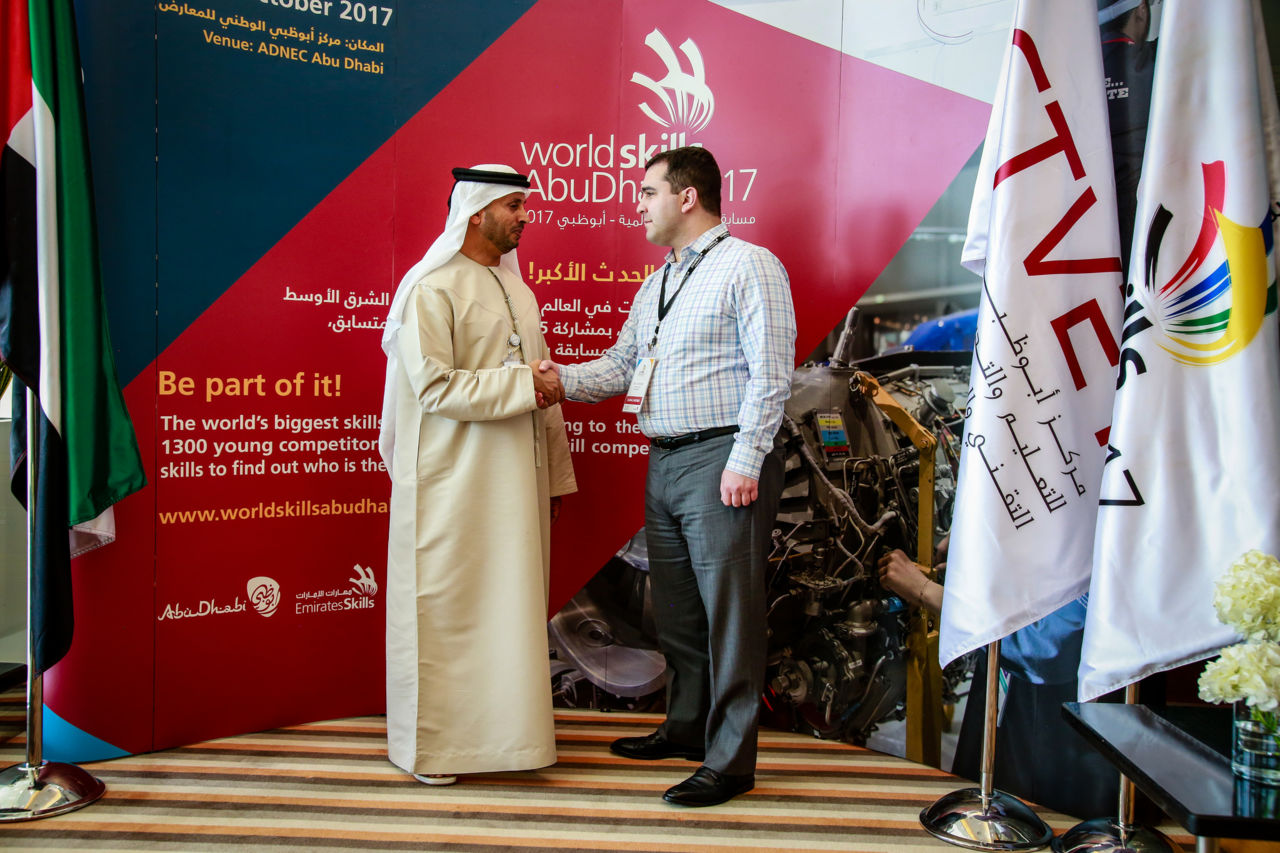 Synergy in the field of Science, Technology, Engineering, and Maths (STEM) – and a shared commitment to helping young people develop the skills that can shape the future – has seen a leading global robotics provider taking its partnership with WorldSkills to a global level.
VEX Robotics has longstanding ties with WorldSkills as an established supporter of its work, mission, and philosophy on the national level, but during the Competition Preparation Week for WorldSkills Abu Dhabi 2017, the collaboration was elevated to new levels.
An agreement signed during the event has made VEX Robotics a Global Supporter of WorldSkills International. The partnership allows the company to connect to young people who are interested in STEM careers, and will also see it play an exciting role when WorldSkills Abu Dhabi 2017 takes place this October through a Junior Mobile Robotics Competition.
"We have been connected to WorldSkills since 2011," said Paul McKnight, Head of Operations for VEX Robotics (Europe). "Through our continued partnership, it has become apparent that many of our core objectives are aligned with those of WorldSkills."
This STEM competition involves students designing and building robots from a construction kit of parts including sensors and motors.  Students then program their robot to perform specific tasks. It is, says Mr McKnight, a "hands-on platform" for 21st century skills development. 
"It is all about giving students an idea of what their potential can be," he explained. "It is not just the vocational and academic skills that participants develop by being involved in competitions; it is the transferral skills that industries look for – problem solving, teamwork, time management, commitment. These are all skills that employers are looking for, and students gain them through involvement in WorldSkills Competitions."
"A growing number of industry partners recognize that people who have participated in WorldSkills Competitions have better outcomes in their pursuit of STEM education. In an age where more people are going to university and getting degrees, having this experience is very beneficial and sets these students apart.
Being a Global Supporter of WorldSkills International will, according to Ricky Quinones, Director of Sales for VEX Robotics, take our support to "the next level", enabling us to expand our reach to more WorldSkills Member countries and regions."
"We really want to show our support for WorldSkills as a whole organization," he outlined, "potentially bringing our products to skills competitions in different countries on a global level, supporting the international organization and its work, and reaching out to all the WorldSkills Members, demonstrating how we can help them achieve their mission."
Being partnered with VEX allows WorldSkills International to benefit from our "unique" approach to skills development, says Mr McKnight, as our platform and programme aim to "excite and engage children in STEM from a young age".
VEX programs– which reaches about a million children each year –encourages students to work as a team, solve problems, and take leadership roles from the second grade onwards. "This goes all the way to university and beyond," said Mr McKnight.
"WorldSkills is keen to develop further links with education at a junior skills competition level, and that is something we could assist with. We have the knowledge and expertise in huge-scale competitions – we set a Guinness World Record for the world's largest robotics competition last year in Louisville, Kentucky - so we can use all the skills in our organization and partner organizations to assist WorldSkills globally."
The relevance of the relationship is illustrated by robotics' emergence as both an expanding and an essential skill, explained Mr Quinones. "Robotics encompasses engineering, programming, maintenance, systems engineering and many more areas, and is a field that is continuing to grow and will have a very important place in our future economy," he said.
This message will be promoted by VEX during WorldSkills Abu Dhabi 2017, with Mr Quinones saying the company is working closely with the hosts and the Abu Dhabi Centre for Technical and Vocational Education and Training (ACTVET) to support the event. VEX will host a Junior Mobile Robotics Competition at the event, encouraging the younger generation to embrace robotics.
"Across the world there are still students who do not have access to this kind of education, or the new skills that come with the experience. There is a long way to go and working with partner organizations like WorldSkills will help us increase that reach and achieve our mission."
Speaking about the value of partnering with VEX, Alexander Amiri, Director of Partnership and Sponsorship at WorldSkills International said, "VEX is a great partner for WorldSkills because they are targeting a different audience - they are into junior skills competitions and we are not targeting that age group at the moment.
"It is great that VEX Robotics has committed themselves to introduce a Junior Mobile Robotics Competition, for the 10-17 age group at WorldSkills Abu Dhabi 2017. In partnership with us, we are, globally, addressing more young people into that area."
Visit the VEX Robotics website for additional information.